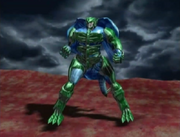 "Dino Stego, power of the Ancients! Stego Skeletal Revolution! Dino Knight, ready!"

Dino Stego is the tough guy of the Core Dino Knights. Likes nothing better than fighting the Dragozaurs, he attacks with the Stego Skeletal Revolution, which is his ribcage that rotates, spinning any enemy around in a circle. His dinosaur form is a Stegosaurus. It was revealed that he had a girlfriend named "Daisy".
External links
Edit
Ad blocker interference detected!
Wikia is a free-to-use site that makes money from advertising. We have a modified experience for viewers using ad blockers

Wikia is not accessible if you've made further modifications. Remove the custom ad blocker rule(s) and the page will load as expected.